A Message From The Sheriff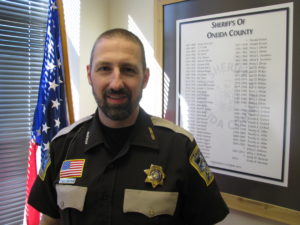 As Sheriff of Oneida County, I would like to welcome you to the Oneida County Sheriff's website. It is my hope you will discover that this site contains useful information about the Sheriff's office, and another way to receive feedback from people like you. I will be working to update our web page with information that all members of the community should find useful and important. My goal is to solicit input from our citizens and keep them knowledgeable of the many programs and services of the Sheriff's Office.
The Sheriff is a constitutional officer and the chief law enforcement officer in the County. The Sheriff is responsible for keeping the peace within Oneida County.
The Office of Sheriff is truly a broad based organization. There are several statutory responsibilities of a Sheriff that encompass a wide range of services. The Law Enforcement Patrol and Jail Operations are the two most commonly associated with any Sheriff's Office. Some of the other services include; Serving Civil Process, Court Security, Transportation of Inmates, Recreational Safety Patrol, Special Response Team (SRT), Hazmat/Bomb Disposal Unit, Drug Abuse Resistance Education (DARE) programs, School Liaison Program, Crime Prevention, Drug Enforcement and Criminal Investigation, and Public Education may be all lesser known by the general public but just as vital.
For those of you that are interested in employment with the Oneida County Sheriff's Office, we welcome you to this site as well. Not only is the agency a great place to work, but also Oneida County is a great place to live and raise a family. This site will only give you a glimpse and we'd encourage you to thoroughly research who we are and what we stand for. We are sure you'll be impressed. Please take a few to view our information video.
Before you move on into other areas of this site, we would like to tell you that the men and women of your Sheriff's Office are an amazing group of very talented professionals. They are truly committed to providing the highest quality of public safety service in a professional and courteous manner. At all levels within the organization we see people that care and being the best they can be. At the same time, this Office has great culture of looking for ways to become better and continuous improvement is a core value that guides our actions. If you see an opportunity for us to be better or would like to see additional information on our site please provide us feedback at "information manager" so that we may look into it. Your thoughts and comments are welcome and very important to us. We look forward to hearing from you.
I am honored to serve as Sheriff in the community in which my family and I live in.
Warmest Regards,
Sheriff Grady Hartman